Cloud Based POS
Our tablet-based, point-of-sale bundles help you sell more and serve customers better wherever they happen to be—inside your business or at an off-site location!
talech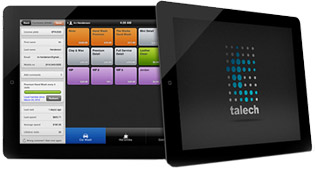 Use this video to set up your Bluetooth mobile payment device to take contactless (mobile wallet) payments.
The talech Software Guide provides detailed instructions on how to set up your register, cash drawer and printer, including setting up employees and customizing your options.
talech Software Guide for Restaurants
talech Software Guide for Retail
Depending on your order, your talech shipment will include the equipment you specified for your business. Please review the guides below to ensure you have all the components you need to start processing transactions.
Elo PayPoint User Guide
talech Hardware Checklist and Guide iCMP EMV Retail Guide
iCMP EMV Restaurant Guide
iCMP Setup Guide
---
NCR Silver

Tablet based POS Solutions are rapidly changing our industry for the better. Beginning in December'14, Ultimate Payment Solutions is going to launch the NCR Silver, a full point-of-sale and marketing solution that helps customers manage their business even when they can't be there. NCR Silver is a well known, cloud-based solution that comes with real time back office access from anywhere. It offers automated email and social media marketing and fraud alerts. Throw in 7-day customer support and next-day hardware replacement and life's about to get a lot easier.
Natural verticals for this product include retail, counter based food sales, mobile businesses and more. The target customer for NCR Silver are small-to-medium businesses (SMB) that fall within the following parameters:
Net-new business that is looking to invest for success without the overhead of an expensive legacy POS
Customers, who currently uses a cash register or other program that is not integrated with payments
Target MCC's
Retail
Services
QSR / counter pay
Please reach out to us or your consultant if you'd like to hear more about our suites of products. info@ultimatepaymentsolutions.com or (818) 981-8584
Getting Started with NCR Silver Back Office
NCR Silver Chip Transaction Guide
NCR Silver Register Guide